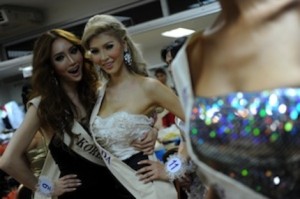 Wow, what an intriguing story. I meant to write about this much sooner but I had some problems with my computer that delayed me.  Anyway, a  transgendered woman by the name of Jenna Talackova was recently disqualified from the Miss Universe Canada Pageant sponsored by Donald Trump after her transgendered status was exposed. She claims her disqualification was a human rights violation and she is planning to sue the pageant. Jenna is a post-op transsexual and she appears on the right the photo above.
I'd really like to get some opinions about this matter. I created a new poll which you can find in sidebar to the right. I'd really appreciate it if you would vote in the poll and share your comment.
I will share my opinion after I get some feedback. I don't want to possibly prejudice the results by sharing my opinion first. You can read about the details of this controversy by clicking the the link below.
Jenna Talackova Disqualified from Pageant
In  male-to-female transgender sub-culture beauty pageants catering exclusively to transsexuals are very popular. They provide an outlet for transgender women to strut their stuff and celebrate their divine femininity for all to see and admire. Check out this clip from the most recent Miss International Queen (transsexual) beauty pageant! I'm sure you'll be amazed at how stunningly beautiful we transgendered gals can be : )
Hug & Kisses
Dee
xoxoxoxoxox