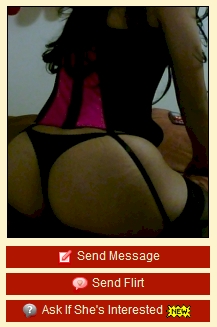 I was just scanning some of the profiles on a transsexual dating site  and I came across one that was very interesting. The profile was of a male cross-dresser named Jessy and I decided that Jessy's profile would present and excellent opportunity to explain the difference between a cross-dresser and a shemale. Here is an excerpt from Jessy's profile:
"hello my name is jessy i am part time cross-dresser I do not take any hormones. I do not want to be a woman. Most of the Time i am a regular guy. I would like to know other girls tv or CDs. I am very friendly. I like to wear sexy clothes, lingerie, stockings and high heels all kinds of boots and sexy dresses. I go out sometimes but not always. I'd like to meet people like me I consider myself straight I feel no attraction to the male body"
First of all, I have to say that Jessy has a fine looking feminine body for someone who considers himself to be a "regular guy" and his butt is absolutely gorgeous.  A lot of shemales would kill to have a butt like that and even I'm kind of jealous : )~
Anyway Jessy's profile description is the epitome of what a cross-dresser is. Generally speaking most cross-dressers are heterosexuals who live their lives a typical guy except for their interest in dressing up as a female at various times. They derive erotic psychological pleasure from dressing as women. I can totally understand this. Female fashion is so much more diverse and erotically alluring than male fashion.
Shemales on the other hand are born  male but engage in a process to transform themselves into transgendered women and live the rest of their lives that way.
There are cross-dressers who are homosexual and unfortunately some of them like to pretended to be shemales to trick guys who are interested in dating  shemales. So to avoid confusion and potentially embarrassing situations don't be afraid to ask someone if they self-identify as a transgender female and not a cross-dresser. I'd say most of the time you'll be able tell without asking because most cross-dressers are not passable as female but just in case there is any doubt, it does not hurt to ask.
If you happen to have an interest in cross-dressing and/or would like to meet cross-dressers, there is nothing at all wrong with that.  You can easily find them a DateACrossdresser.com.
Hugs & Kisses
Dee
xoxoxoxoxoxo