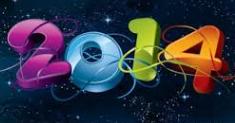 In the few hours remaining of 2013 I'd like to take this opportunity to wish everyone a happy and prosperous New Year! I hope you make those resolutions and make them all count for the new year.
I know that making new year resolutions is somewhat of a cliche these days because most people manage to break them in a matter of days, hours, minutes or even seconds after the clock strikes midnight : ).
For me it is quite different. This will always be a special time of great significance for me because at this time over 20 years ago I made a sacred resolution to abondon my life as a male and fully embrace the divine femininity within me and forever change my destiny.
What about you? Will you pursue a relationship with a shemale lover with a similar degree of seriousness? I hope so. Now is a great time to explore and fulfill this desire within you. Transsexauality is becoming increasingly accepted and respected in our society and relationships with transsexuals no longer need to anyone's "dirty little secret".
So go ahead an boldly pursue you desires. The shemale lover of your dreams may only be a mouse click away.
Hugs & Kisses
Dee
xoxoxoxoxoxo