I have been absent for a while because I've been busy with other projects. But I am back and I would be remiss if I let 2015 slip by without commenting on what is probably the most dramatic event of all time with respect to the  transgender community! Of course the event I am speaking about is the miraculous and awe inspiring transformation of of Caitlyn Jenner!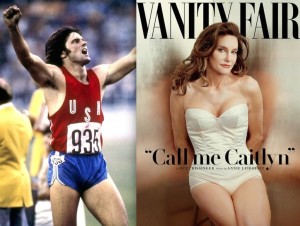 In recent years, the transgender community has enjoyed positive media coverage that has help raise awareness of our unique issues and most important, our humanity! However, no single event or person has to been able to generate as much beneficial worldwide publicity as the stunning rebirth of Bruce Jenner to Caitlyn!
Bruce Jenner was a world famous Olympic athlete in the seventies whose handsome visage graced the face of cereal boxes for many years after he won Olympic gold in the decathlon. He possessed a very wholesome "All American" image and was loved by all! As a world class Olympic athlete Bruce was at the pinnacle of manhood. No one would ever have guessed that he secretly struggled with gender identity issues.
Bruce took a great risk with his reputation to succumb to his burning desire become the woman he always wanted to be and he did it with grand fashion – a true act of courage that not only benefited himself but the worldwide transgender community as well!
I have the utmost respect for Caitlyn and wish her all the best! By the way Caitlyn like myself decided to keep her male genitalia intact so she is technically a pre-op transsexual. As far as I know, Caitlyn is available! Since this side is dedicated to promoting Shemale dating/Transgender Dating, I have to ask the question.
Would you date Caitlyn Jenner?
Tell me what you think by commenting and voting in my new poll in right margin (scroll a bit down the page), Caitlyn Jenner, Hot or Not? It'll be fun : )
Hugs and Kisses,
Dee
xoxoxoxoxoxoxo
Date A Shemale